Benefits of Servicing your Vehicle at a dealership
Regular service is the key to keeping your Dodge, Chrysler, Jeep or RAM vehicle in great shape. Where you get that service is entirely up to you, but there are plenty of worthwhile perks to having your vehicle serviced at our dealership rather than at an independent or franchised garage.
Bigger and Better Facilities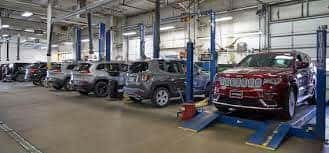 Most small repair shops have just two or three service bays for repairs, while larger independent and franchised shops have several bays available for wide variety of services. When things get busy at a small shop, you may end up waiting several days just for a mechanic to get to your vehicle. When you bring your vehicle to a dealership for service, you'll find a much larger facility with more service bays for all types of services and repairs. Some dealerships even offer an "Express Lane" service dedicated just for oil changes and other minor services that can be performed in under an hour.
State-of-the-Art Equipment
Having the right tools can make all the difference when servicing a modern vehicle. Dealerships make sure their service centers come equipped with the latest in diagnostic tools and service equipment, some of which may not be on hand at independent repair shops.
Factory-Trained Technicians
No one knows your vehicle better than the people who designed and built it. Dealerships not only specialize in servicing your specific vehicle brand, but they also employ factory-trained technicians who understand every aspect of your particular make and model. Armed with a wealth of knowledge and experience with your specific vehicle brand, dealership technicians can diagnose and repair any issue with remarkable ease.Independent mechanics are good at what they do, but their knowledge of your vehicle may not run as deep as the technicians trained to deal specifically with your vehicle brand.
Genuine OEM Parts
independent repair shops often use generic parts as a lower-cost alternative to your vehicle's original parts. Using generic parts can save money, but they often lack the quality as well as the precise fitment of the originals. In contrast, dealerships use genuine OEM parts that are specifically designed to work with your vehicle and perform just like the original parts. Not only do these parts last longer than their generic counterparts, but you'll also run into fewer issues later on. Dealerships also carry a larger and wider inventory of genuine replacement parts for commonly serviced vehicles. As a result, technicians have a readily available selection of parts on hand to carry out most repairs. Dealerships can also get these repairs done quickly, whereas an independent mechanic may have to order parts and wait several days for those parts to arrive.
Worry-Free Warranty Repairs
When you bring your vehicle to the dealership for warranty work, you'll rest easier knowing it's getting the right level of care and attention. You'll also worry less about the quality of the warranty work, as well as your warranty being voided for not meeting service requirements.
Attention to Recalls and Special Bulletins
If there's an ongoing recall or technical service bulletin (TSB) concerning your vehicle, you'll want to know about it as soon as possible. Some recalls and TSBs can affect your vehicle's overall performance and safety, so it's important to have these issues addressed as soon as possible. Dealerships are often the first to know about recalls, bulletins, and other advisories regarding your vehicle. Meanwhile, independent repair shops may not be aware of ongoing recalls until much later.
Higher Standards
As a direct representative of the manufacturer when it comes to service and repairs, dealership service centers are held to a much higher standard than most independent shops. That shows in the investments dealers make in their service team, the way dealerships maintain their facilities and how service teams interact with their customers. Complete customer satisfaction is the name of the game for dealers and manufacturers alike.