All About The New Gladiator
The 2021 Gladiator has rugged styling that makes it look similar to the Wrangler but with a bed. The vehicle is ideal for those who want to have some fun both on and off the road in all types of conditions. If you want to discover more about what the truck offers to drivers, there are a few features to review to determine if it's the right vehicle for your needs for getting around Laredo.
Highlights
Some top highlights that stand out on the 2021 Gladiator include Apple CarPlay, which comes standard on all models to ensure you can stay connected to your device while on the road. Many different engines are also available, depending on how much power you want to take advantage of. The top engine produces an impressive 797 horsepower to ensure you can race at high speeds without feeling weighed down by the size of the vehicle. 4 SRT driving modes are available for all situations, making the car more versatile. The towing capacity is impressive at 7,650 pounds, which is higher than similar vehicles, including the Jeep Wrangler. In the Control Room, you can monitor the vehicle stats to determine if you need to pay attention to the different features. You'll also receive alerts to ensure you provide proper care and maintenance to the 2021 Gladiator. The waterproof push-button start is also durable. The roof top and doors are also easy to remove to ensure you can drive without any barriers between you and the great outdoors. A number of interior storage options are also present to ensure you can keep everything organized and out of sight. You don't have to worry about leaving your items or devices sitting out and can have easy access to your personal belongings. The seats can also be stowed in different ways to ensure you can customize the layout of the cabin for different types of outdoor adventures.
New Features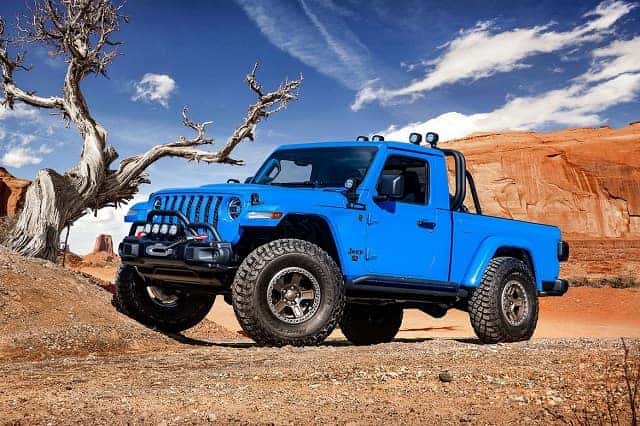 Drivers can enjoy the premium stereo system, which comes with an available subwoofer, as well as a portable speaker that sits behind the back seat. In the cabin, drivers and passengers will also find two USBs and a USB-C port. There's even a 115-volt outlet in the dashboard for different types of electronic devices that can be plugged in without needing a USB port. The five-foot cargo bed is large enough to haul a variety of expansive and robust equipment and tools while on the go. You can even upgrade to a spray-in liner to maintain the overall appearance and quality of the bed as you get plenty of use out of it over time. The vehicle also has improved fuel economy and better off-road capability than previous generations. The steering has also been improved to make it easier to control the car and enjoy the excellent handling. Those who select the Mojave trim level can take advantage of the high-performance suspension, which offers a comfortable and smooth ride even while tackling unpaved roads. It can tackle imperfections in the road with ease and can absorb severe impacts without causing any parts on the car to suffer from damage. This makes it easier to explore more places without worrying about any of the parts breaking. Many of the tech features are also intuitive and user-friendly. All the controls on the dashboard are designed well and are easy to find to ensure you can quickly adjust the settings without becoming distracted while operating the car.
Safety Features
Some of the top safety features to utilize in the truck include Blind Spot Monitoring with Rear Cross Path Detection to boost your visibility. Forward Collision Warning with Active Braking, Lane departure warning system, electronic stability control, high-strength steel frame, rear park assist with stop. The car comes with a convenient rearview camera to make it easier to have more of a view behind you while pulling out of parking spaces. Rear parking sensors also alert you any time you get too close to other objects. Automatic high-beam headlights also offer more accommodation to ensure you can drive in the middle of nowhere where street lamps aren't present.
When you're ready to schedule a test drive of the Jeep Gladiator, reach out to our Laredo CDJR dealership today to learn more about what the model offers to drivers in Laredo. Our friendly and responsive team at Laredo CDJR will be here to help you explore our large inventory and discover the financing options you can take advantage of at our location.