All About The New Challenger
The Dodge Challenger is a muscle car: literally and figuratively. It comes with a phalanx of brawny engine choices, and it possesses the classic physical characteristics of its class (which are an elongated front and a truncated back). The 2021 model year brings the Widebody package—which includes huge fender flares and 18-inch Low Gloss Granite or 20-inch Carbon Black aluminum wheels—to a wider range of trim levels than ever before. The 2021 Challenger is available in the following trim levels:
SXT: The SXT Challenger model is powered by a 3.6-liter Pentastar V6, which outputs 305 horsepower and is strapped to an eight-speed automatic transmission for snappy acceleration and easy shifts. There are two drivetrain choices: rear-wheel drive (for exceptional handling due to the front-placed engine pushing power to the rear wheels) and all-wheel drive (for better traction performance on slippery surfaces). As a five-seater, this vehicle has two rows of cloth-trimmed seats; the front includes a six-way power-adjustable driver's seat and a leather-wrapped steering wheel. For infotainment, this car uses a 7-inch touchscreen interface to integrate features such as the following:
• Six speakers
• AM/FM radio tuner
• Bluetooth for hands-free phone calling and audio streaming
• Two USB ports for playing content from or charging mobile devices
• Smartphone integration via Android Auto and Apple CarPlay
Also standard are a dual-zone automatic climate control system (with climate controls facing the driver and front passenger), remote keyless entry (for locking and unlocking doors by pressing key fob buttons), and an auto-dimming rearview mirror (for taming headlight glare from vehicles following you). Safety features on the SXT include the following:
• Rearview camera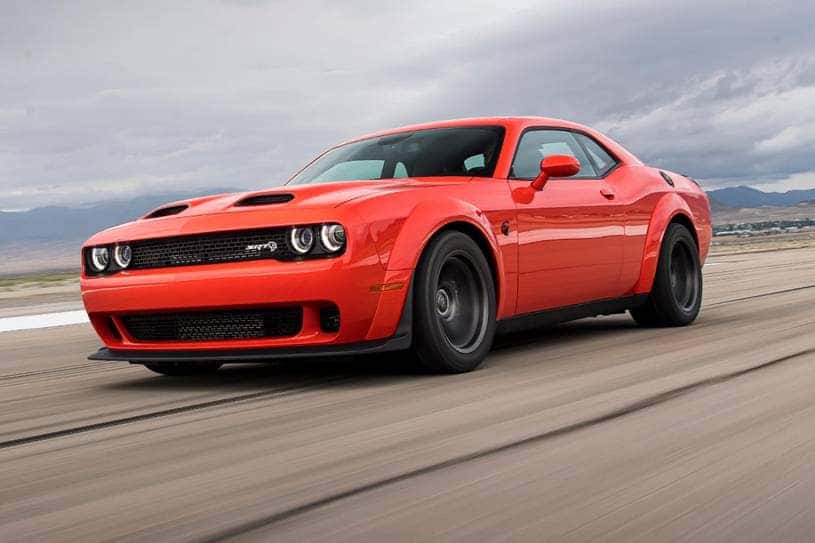 • Six airbags (two frontal impact, two side impact, and two side curtain airbags)
• Anti-lock braking
• Brake assist
• Electronic stability control
Traction control
• Theft-deterrent system
GT: The GT has a few upgrades over the base SXT. For seating and driving accommodations, the Challenger has upgraded cloth trim and the driver's seat receives eight-way power adjustability. The auto-dimming rearview mirror includes a universal transceiver for remote-controlling garage doors. The transmission comes with steering wheel-mounted paddle shifters to make gear shifting more convenient. The rearview camera gets rear parking sensors so that you get beeping sounds when you get too close to something with the rear of the vehicle.
RT: This is where the Challenger is provided as a rear-wheel-drive vehicle; only the SXT and the GT is available in rear-wheel drive and all-wheel drive. On the other hand, the 3.6-liter Pentastar V6 is replaced by a larger, 5.7-liter HEMI V8 for an output of 375 horsepower—and much better acceleration. A six-speed manual gearbox replaces the eight-speed automatic for absolute control of gear shifting.
RT SCAT PACK: The optional Widebody package is made available at the RT Scat Pack level (as well as the two trim levels immediately above it). The RT Scat Pack also marks a major performance upgrade: with a high-performance suspension, Brembo performance brakes, and a 485-horsepower 6.4-liter HEMI V8. The front seats and the steering wheel gain heating ability, and infotainment is boosted with a six-speaker Alpine premium stereo system, an 8.4-inch touchscreen (in place of the 7-inch), and a trial subscription to SiriusXM Radio.
SRT HELLCAT: For a more robust performance upgrade than the RT Scat Pack, spring for at least the SRT Hellcat, which is mainly named for its supercharged 717-horsepower 6.2-liter V8. This engine is accompanied by six-piston Brembo front brakes for superior stopping power, a heavy-duty differential for exceptional traction and handling ability, an open air intake for maintaining ideal engine compartment temperature, and a competition three-mode adjustable Bilstein suspension for supreme absorption of road imperfections.
SRT HELLCAT REDEYE: The Redeye is simply a more powerful version of the SRT Hellcat. The SRT engine is tuned to output 797 horsepower instead of 717 horsepower.
SRT SUPER STOCK: The range-topping SRT Super Stock is the most powerful version of the Dodge Challenger yet. On this model, the SRT engine is tuned to a whopping 807 horsepower—and enable a 0-to-60 mph time of 3.25 seconds.
Ready to try out the 2021 Challenger? Laredo Dodge Chrysler Jeep in Laredo, Texas, is here for you, fulfilling your sports car needs. Test-drive the Dodge Challenger today and meet with one of our Texas Dodge sports car experts.